Ways to Enhance Hair Growth
ym3fm
For most of us who see our hair at the top of our heads as an integral part of our human body and what makes us look good, here are some simple tips you can follow if you want healthier and beautiful hair:
𝟭. 𝗘𝗮𝘁 𝗳𝗼𝗼𝗱𝘀 𝗿𝗶𝗰𝗵 𝗶𝗻 𝗽𝗿𝗼𝘁𝗲𝗶𝗻, 𝘃𝗶𝘁𝗮𝗺𝗶𝗻𝘀 𝗮𝗻𝗱 𝗺𝗶𝗻𝗲𝗿𝗮𝗹𝘀
Foods rich in protein, biotin, B group vitamins, iron, zinc and fatty acids are essential for hair to grow healthily. So, pack up on those eggs, nuts, sweet potatoes, fatty fish, and lots greens like spinach.
𝟮. 𝗠𝗮𝘀𝘀𝗮𝗴𝗲 𝘆𝗼𝘂𝗿 𝘀𝗰𝗮𝗹𝗽 𝗼𝗳𝘁𝗲𝗻 𝘁𝗼 𝘀𝘁𝗶𝗺𝘂𝗹𝗮𝘁𝗲 𝗯𝗹𝗼𝗼𝗱 𝗳𝗹𝗼𝘄
Massaging the scalp often will help oxygen to flow in the scalp and get the required nutrients to the hair. thus stimulating hair growth.
𝟯. 𝗧𝗿𝗶𝗺 𝘆𝗼𝘂𝗿 𝗵𝗮𝗶𝗿 𝗿𝗲𝗴𝘂𝗹𝗮𝗿𝗹𝘆 𝘁𝗼 𝗽𝗿𝗲𝘃𝗲𝗻𝘁 𝗱𝗮𝗺𝗮𝗴𝗲
Damaged hair is more prone to breakage and thinning in the long run. So, trim those ends three to four times a year to prevent split ends that can cause further damage to your hair in the long run.
𝟰. 𝗗𝗼𝗻'𝘁 𝘄𝗮𝘀𝗵 𝘆𝗼𝘂𝗿 𝗵𝗮𝗶𝗿 𝘁𝗼𝗼 𝗼𝗳𝘁𝗲𝗻
Washing your hair often will strip off the natural oils, causing the scalp and hair to become dry. A dry scalp can also lead to issues such as dandruff and itchy scalp. Instead, wash on alternate days.
𝟱. 𝗨𝘀𝗲 𝗻𝗼𝘂𝗿𝗶𝘀𝗵𝗶𝗻𝗴 𝘁𝗼𝗽𝗶𝗰𝗮𝗹 𝘁𝗿𝗲𝗮𝘁𝗺𝗲𝗻𝘁𝘀
These nourishing topical treatments can be in the form of herbal-based serums or peptides that provides your scalp and hair with the essential nutrients to stimulate hair growth, promote hair health and prevent hair loss.
Need a solution for your hair loss problem?
MF3 offers a simple solution to your distressing hair loss experience. With our range of hair and scalp care, you can finally say goodbye to hair loss and premature grey hair.
Choose from our HFR Spray or Intensive Hair Treatment range.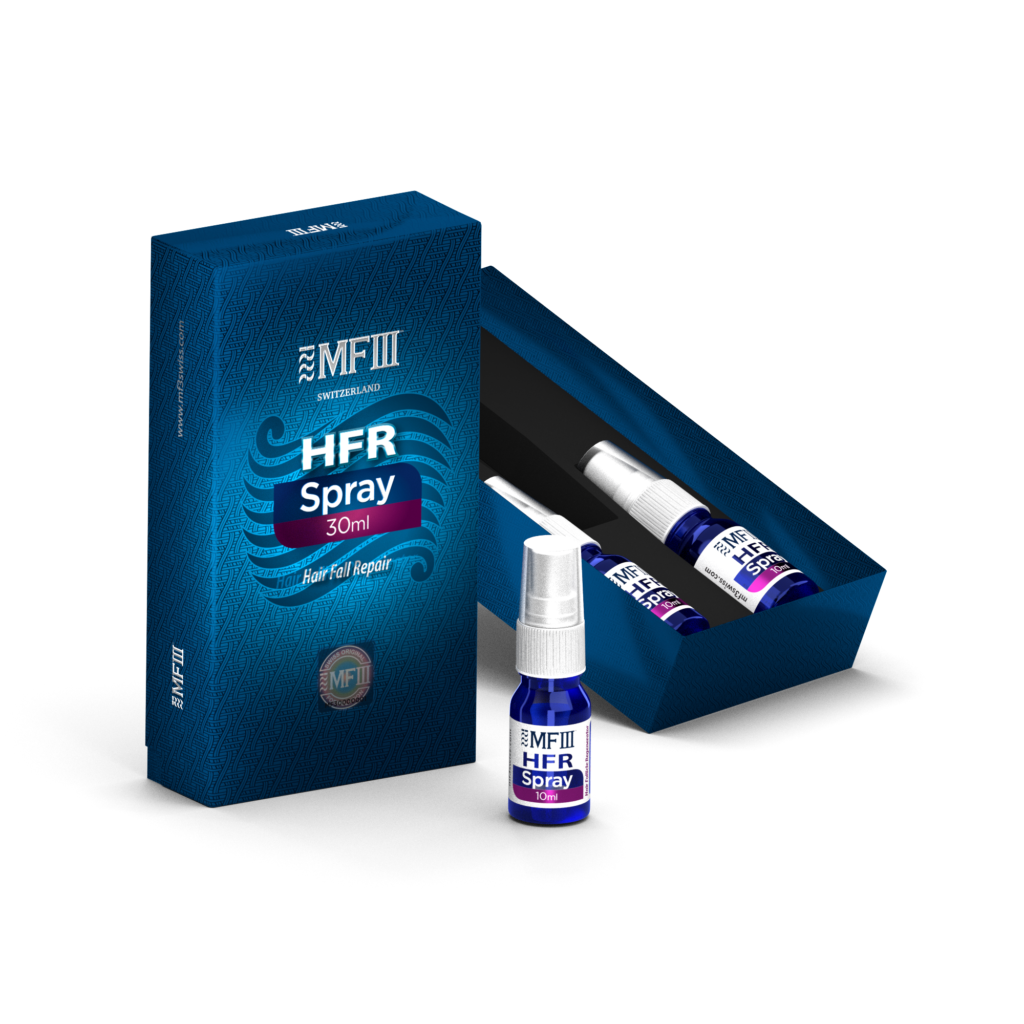 To view all of our Hair & Scalp Care products, click here.
SOURCES:
Famenini, S., & Goh, C. (2014). Evidence for supplemental treatments in androgenetic alopecia. Journal of drugs in dermatology : JDD, 13(7), 809–812.
Park, S. Y., Na, S. Y., Kim, J. H., Cho, S., & Lee, J. H. (2013). Iron plays a certain role in patterned hair loss. Journal of Korean medical science, 28(6), 934–938. https://doi.org/10.3346/jkms.2013.28.6.934
Biotin. (2015, October 21)
lpi.oregonstate.edu/mic/vitamins/biotin – hair-loss-treatment
Davis, M. G., Thomas, J. H., van de Velde, S., Boissy, Y., Dawson, T. L., Iveson, R., & Sutton, K. (2011, December). A novel cosmetic approach to treat thinning hair. British Journal of Dermatology, 3, 24-30
ncbi.nlm.nih.gov/pubmed/22171682
Finner, A. (2013, January). Nutrition and hair: deficiencies and supplements. Hair Disorders: Current Concepts in Pathophysiology, Diagnosis and Management, 31(1), 167-172
sciencedirect.com/science/artic le/pii/S0733863512001039
Hwang, I., Choi, K. A., Park, H. S, Jeong, H., Kim, J. O. Seol, K. C., Kwon, H. J., Park, I. H, & Hong, S. (2016). Neural stem cells restore hair growth through activation of the hair follicle niche. Europe PMC. Retrieved from
europepmc.org/abstract/med/27110030