How To Have a Safe and Healthy Fasting During the Ramadhan Season
MF3 Swiss
There are various fasting methods that we are familiar with and they are mostly health related.
Nevertheless, the fasting that is done during the Ramadhan season is an act of reinforcing gratitude and to strengthen faith. The fasting period starts from dawn and ends at sunset. Though this is the case, the days can be short or long depending where we are in the world.
One of the challenges that most face during the Ramadhan month is having low energy levels and fatigue while having to still carry out usual daily routines and responsibilities.
It is also during this time that many of us tend to neglect our health either by over-indulging or not getting the essential nourishment our body needs to stay energized.
Here are some useful ways to have a safe and healthy fasting during the Ramadhan month.
Keep Hydrated When You Can
Keep hydrated when you can and remember that drinking the essential amount of water can keep you energized, leave you in a better mood and helps to suppress hunger naturally.
This is because studies have found that being dehydrated can affect your mood and energy levels, as those who keep hydrated are generally calmer and happier.
Find it hard to stay hydrated during Ramadhan? Try keeping a bottle of drinking water close by when you are sleeping and take a drink when you can throughout the night.
You can also stock up on foods that are high in water content like strawberries, cucumber, watermelon, tomatoes and oranges to keep hydrated.
Don't Ever Skip Suhoor
Skipping suhoor is equivalent to skipping breakfast and lunch altogether which can cause more harm to our health and trigger unwanted health complications like having gastric.
Having a meal during suhoor, which is the meal in the morning before the fasting begins for the day ahead, is essential in providing us with the energy to take on the day.
The key is also to eat the right meals that are nourishing for the body and mind. Besides simple carbs, also opt for foods that are rich in vitamins and minerals, healthy fat and protein.
Watch What You Eat
Try not to go overboard with the food especially during breaking of fast.
It's best to not over-indulged in oily and sugary foods and to remind ourselves that it's all about moderation during the Ramadhan season.
Be a little more selective if possible and choose to eat foods that are nourishing and provides the essential nutrients your body needs to function at its best.
Also try to avoid foods that are rich in sodium as these foods are dehydrating and will leave you sluggish throughout the day.
Know Your Own Health
Having a better understanding and knowledge about your health is crucial during the fasting month of Ramadhan. These insights allow you to plan ahead so that your fasting journey will be smooth while still being able to manage your health.
Initiate a conversation with your doctor if you need to especially if it's about making adjustments to your medication while fasting. Professional healthcare advise is crucial in this case, so seek the advice you need to avoid any unwanted complications during the Ramadhan period.
Take the Right Supplements
Here are some recommended Halal MF3 supplements that are suitable to take during the Ramadhan fasting period to feel more energized, productive and healthy.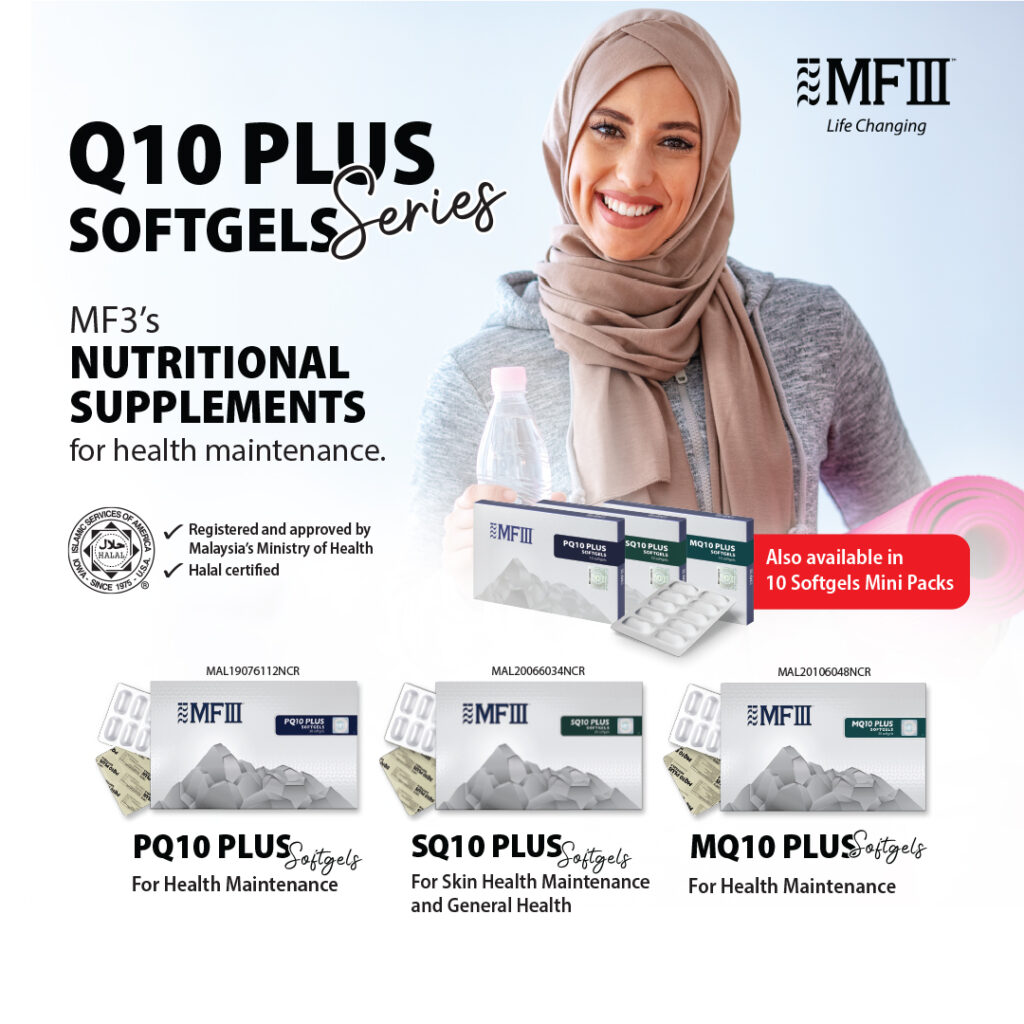 Nutritional supplements for complete health and peace of mind!
Our best-selling Q10 Plus Series supplements are registered and approved by Malaysia's Ministry of Health, and are also Halal-certified by ISA.
Q10 Plus provides a wide range of nutrients and bioactives for complete wellness and helps to improve sense of satiety.
Check out the Q10 Plus Series: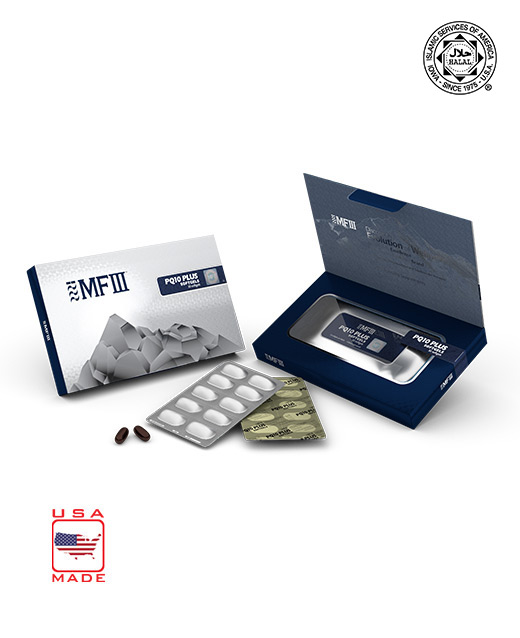 PQ10 Plus is formulated with potent antioxidant Ubiquinol (Coenzyme Q10), premium sheep placenta extracts and protein-marine formula. A definite plus to your total rejuvenation, intensive cellular renewal and complete wellness journey.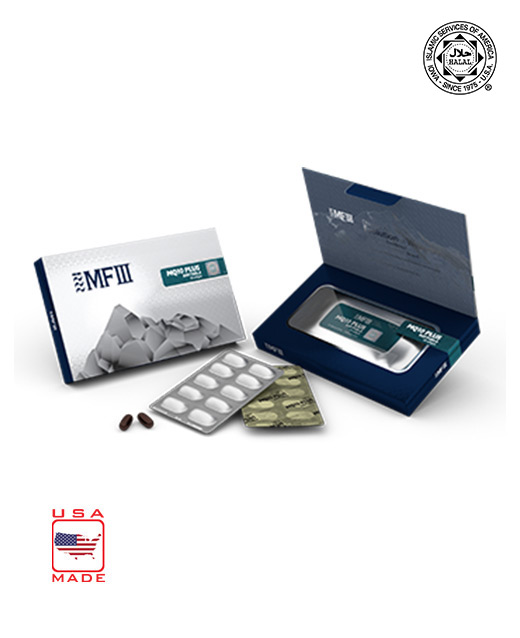 MQ10 Plus is formulated with Marine Cellular Extracts and enriched with EPA and DHA from Omega-3 Fish Oil and Krill Oil for musculoskeletal conditioning, cellular renewal and complete wellness.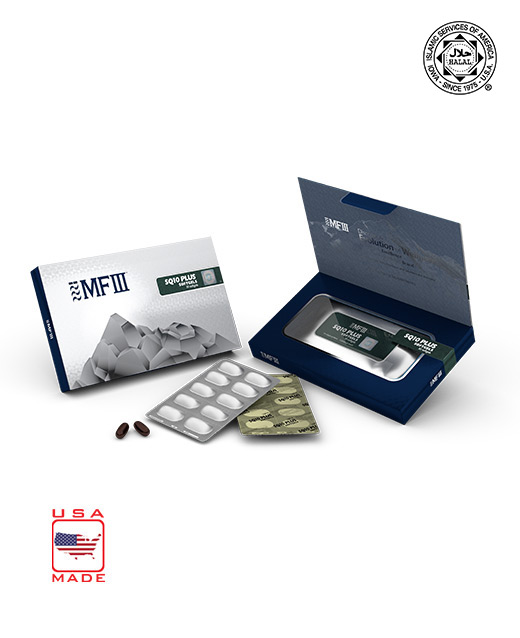 SQ10 Plus is formulated with an enhanced formulation that comprises of Vegetal Placenta Extracts, botanical extract and Coenzyme Q10 that promotes skin rejuvenation, cellular renewal, cardiovascular health, and complete wellness.