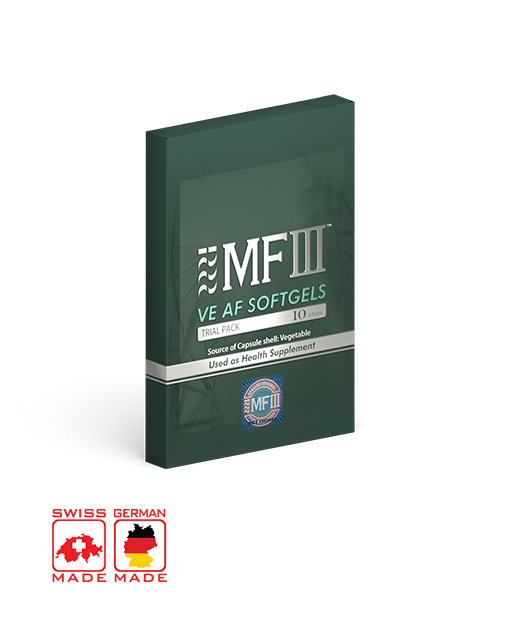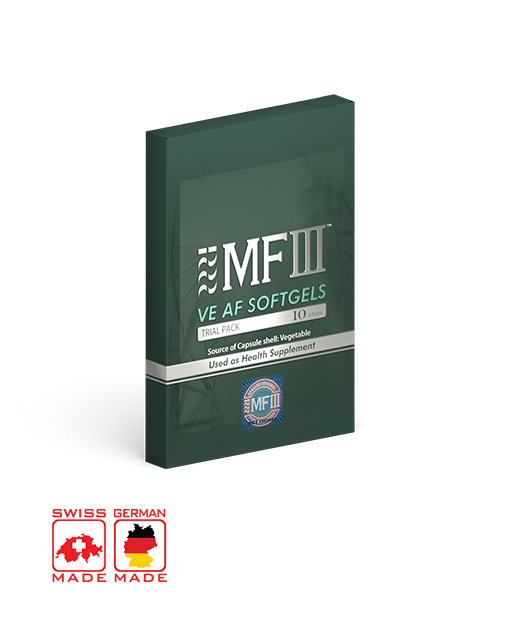 VE AF Softgels Mini
RM403.00
Reviews Summary by AI:
Daily Nutritional Support System with Vegetal Placenta (Phyto-Cellular Extracts) for Complete Wellness and Rejuvenation
MAL22106063NCR
Compare
Compare
Description
Recommended Intake
Additional information
Reviews (5)
Description
A scientifically proven substitute to animal placenta extracts, MF3 VE Advanced Formula Softgels (VE AF Softgels) incorporates the rejuvenating and youth-restoring wonders of Vegetal Placenta, premium grade phyto-cellular extracts specially derived from Dermacenta™ – a rare non-genetically modified soybean plant from France.
The phyto-cellular extracts function as cell bio-activators and anti-oxidative agents, stimulating cellular growth and regulating excess free radicals to counter your body's aging and skin damage in a natural way.
Clinically tested to have zero traces of animal or synthetic derivatives, this botanical innovation is aimed at growing niche markets such as the recognised vegetarian and halal market.
ENHANCING CELLULAR GROWTH FROM WITHIN
With the supplementation of vital nutrients for cellular growth, VE AF Softgels is proven to deliver age-defying benefits that visibly create a long-lasting and uplifting dimension to natural health, beauty and vitality – all from the inside-out.
This product is recommended/featured by medical specialists and researchers in the following publications/clinical trials: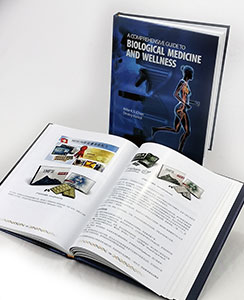 A Comprehensive Guide To Biological Medicine And Wellness
Author/s: Prof. Dr. Mike Chan and Prof. Dr. Dmitry Klokol
Published by Matador, Troubador.co.uk, London.Medical Research: ISBN 978 1789015 249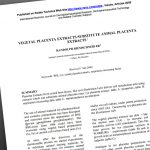 VEGETAL PLACENTA EXTRACTS SUBSTITUTE ANIMAL PLACENTA EXTRACTS
A research paper
Author/s: Prof. Dr. Randolph Riemschneider, Institute of UFSM , Santa Maria, RS, Brazil
Publisher: International Electronic Journal on Dermopharmacological Research,
Dermopharmaceutical Technology and Related Cosmetic Subjects: Issues, Articles 2008
Published url: http://www.relata.info/en/Issues/vegetal-placenta-extracts-substitute-animal-placen
1 softgel daily preferably half an hour before meal in the morning.
Box of 10 softgels
For further consultation on the supplements, please email your inquiry to nutritionist@mf3swiss.com.
"My skin looks better than before and people have been commenting that I look much younger than I really am."
– Dorinda Cheng, Singapore
"I had benefited from this product after taken for 5 boxes, it's benefited me via the following rejuvenation and regeneration:
1. Boost general health, vitality and wellness
2. Increase energy levels
3. Improve stress response
4. Promote deeper (restorative) sleep
5. Enhance mental agility and alertness
6.Improve stamina, mobility and range of motion
7. Strengthen the body detox system for better digestion
8.Promote post-natal recuperation to restore health
9. Reinforce the immune system
10. Support speedy recovery from illness and poor state of health
11. Enhance natural repair system and bio-sunshield against premature photo-aging
12. Enhance skin structure, firmness and elasticity"
– Henry Pang, Malaysia
"Cure my knee problem"
– Vernice Chen, Malaysia
"Let me change my skin tone and health, very good product"
– Mia Lai Y. T., Malaysia
"I'm just started to take MF3 VP Softgels AF, upon my consultation with my Aesthetics doctor. This product highly recommended and I'm looking to earn the benefit as well. "
– Manivannan Kanniah, Malaysia