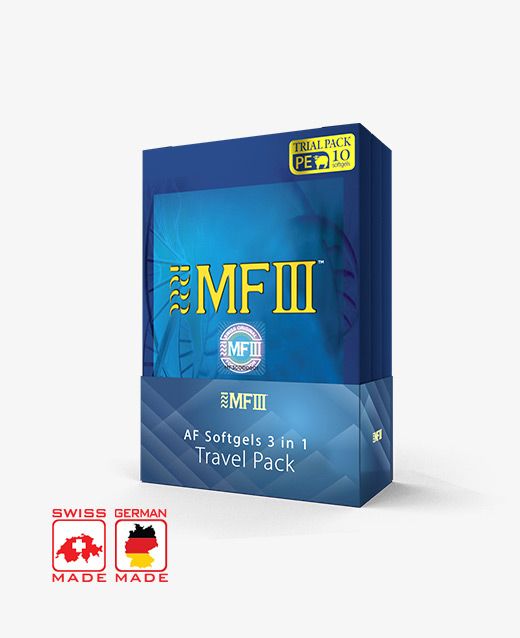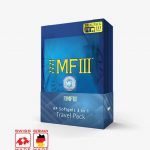 AF Softgels 3 IN 1 Travel Pack
RM1,000.00
Offer Ends In:
23
Days
09
Hours
01
Minute
18
Seconds
Easy packed combination of PE Softgels AF, VP Softgels AF and MCE Softgel for your getaway
Rebuild, Rejuvenate and Renew
Pioneering cell therapy softgels
High nutrient contents with a wide range of health benefits
Daily nutritional supplements for complete wellness and rejuvenation
The MF3 Advanced Formula 3-in-1 Travel Pack is a compact and convenient combo of the three AF softgel supplements. Hop on to your next destination without missing your beat and your daily boosters.
Your health and trip made simple with MF3 Advanced Formula 3-in-1 Travel Pack. Just grab, pack and go!
SKU:

AF-3in1
Categories: Advanced Formula (AF) Series, Cardiovascular Health, Energy / Stamina, Healthy Aging, Immunomodulation, Menopausal Syndrome, Musculoskeletal Health, Nutrition, Overall Wellness, Skin Hydration, Skin Whitening, Supplements, Travel Pack, Wrinkles, Youthful Skin
Description
Recommended Intake
Additional information
Description
MF3 Advanced Formula 3-in-1 Travel Pack contains:
10 x PE Softgels AF
Contains award-winning formulation with Premium Sheep Placenta Extracts and Marine Cellular Ingredients. It activates cellular regeneration from skin deep to the interlinking structures of inner organs and tissues, for long-lasting and complete rejuvenation.
Buy only PE Softgels AF, click here
More info, visit mf3swiss.com/mf3-pe-softgels-advanced-formula
10 x VP Softgels AF :
A plant-based innovation packed with phyto-cellular extracts from Dermacenta™ – a rare non-genetically modified soybean plant from France. The Vegetal Placenta extracts act as cell bio-activators and anti-oxidative agents to counter aging and skin damage in a natural way. It is clinically tested to have zero traces of animal or synthetic derivatives making it vegetarian and halal-friendly.
Buy only VP Softgels AF, click here.
More info, visit mf3swiss.com/mf3-vp-softgels-af/
10 x MCE Softgel:
Consists of concentrated marine cellular extracts fortified with vegetal actives including Coenzyme Q10 and Grape Seed Extract. Supports healthy extracellular matrix component in the body which is essential for various metabolic processes for cell growth, renewal and repair.
Buy only MCE Softgels, click here.
More info, visit mf3swiss.com/mf3-pe-softgels-af-with-marine-cellular-extracts
For daily intake, we recommend consuming one softgel per day. You may start with PE followed by Marine and VP consecutively.
For further consultation on the supplements, please email your inquiry to nutritionist@mf3swiss.com.