Glowing Night at the Mrs Malaysia Universe & Mrs Elite Malaysia Universe 2023 Grand Finals
MF3 Swiss
What a night of glitz and glamour!
The atmosphere was truly an exciting one at the recent Mrs Malaysia Universe and Mrs Elite Malaysia 2023  Gala Night Finals, which was held on 29th July 2023 at the Mega Star Arena, Kuala Lumpur.
Like the previous years, witnessing women from all walks of life showcasing their own unique talents coupled with their passion and confidence during the event was undeniably empowering.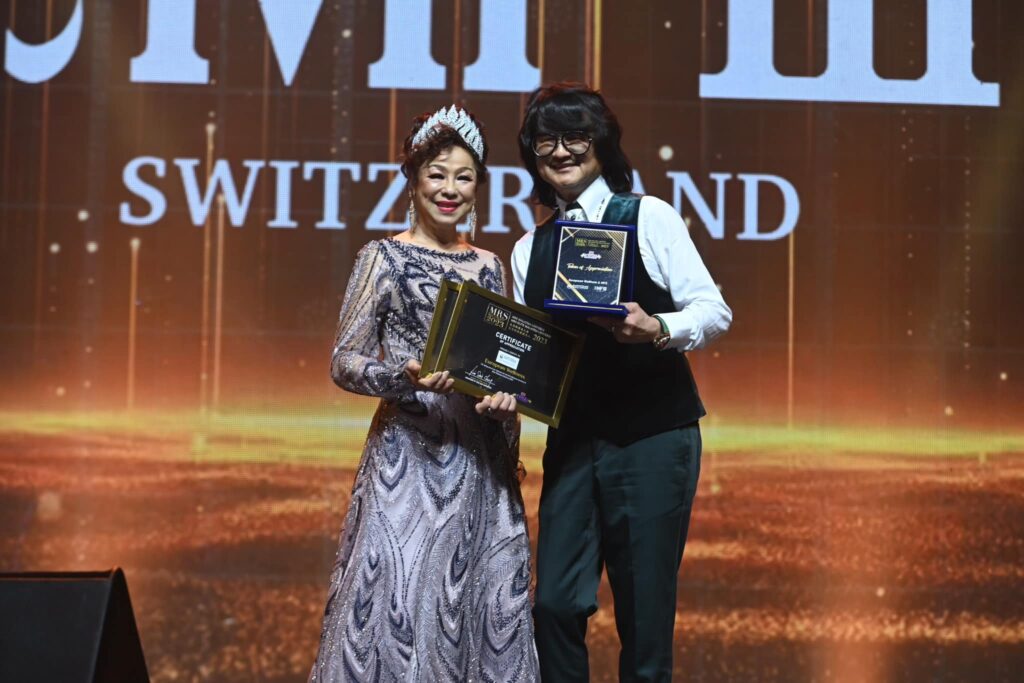 Once again, MF3 Malaysia is proud to have been one of the sponsors of the 2023 Mrs Malaysia Universe & Mrs Elite Malaysia beauty pageant, and representing our brand was none other than our Co-Founder, Prof. Dato' Sri Dr. Mike Chan!
We would also like to take this opportunity to extend our heartiest congratulations to this year's winners again!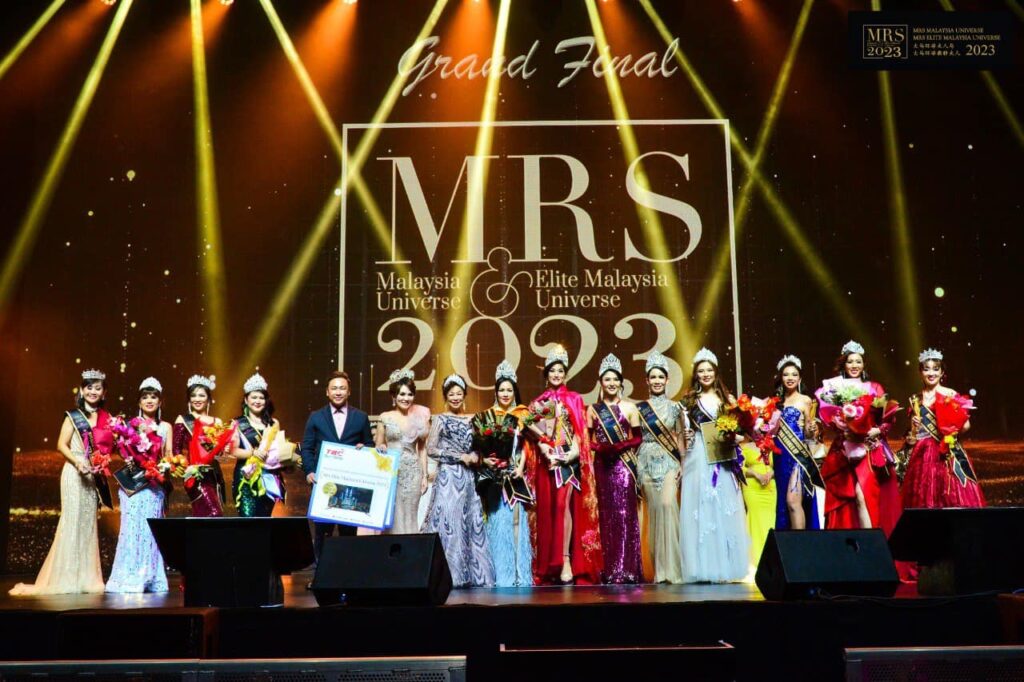 WINNERS OF MRS MALAYSIA UNIVERSE 2023
TOP 5 winners:
Mrs Malaysia Universe 2023
4th Runner-up A11 Hazel Lim
3rd runner up A8 Veronica Loke
2nd runner up A3 Koh Li Li
1st runner up A6 Celine Phong
Champion A9 Sharon Liew
WINNERS OF MRS ELITE MALAYSIA UNIVERSE 2023
Mrs Elite Malaysia Universe 2023
4th runner up B5 Catherine Ng
3rd runner up B1 Caryn Wong
2nd runner up B7 Rachel Wong
1st runner up B8 Michelle Lim
Champion B3 Maria Tay
SPECIAL AWARDS
Mrs Malaysia Universe 2023 Most Energetic
– A11 Hazel Lim
Mrs Malaysia Universe 2023 Most confident
– A3 Mummy Liz
Mrs Malaysia Universe 2023 Best body
– A5 Peannie Ooi
Mrs Malaysia Universe 2023 Best fitness
– A8 Veronica Loke
Mrs Elite Malaysia Universe 2023 Best fitness
– B1 Caryn Wong
Mrs Malaysia Universe 2023 Best personality
– A15 Sem
Mrs Elite Malaysia Universe 2023 Best personality
– B2 Yvonne Yee
Mrs Malaysia Universe 2023 Best catwalk
– A9 Sharon Liew
Mrs Elite Malaysia Universe 2023
– B3 Maria Tay
Mrs Malaysia Universe 2023 Most Potential
– A12 Freya
Mrs Elite Malaysia Universe 2023 Most Potential
– B6 Winnie Goh
Mrs Malaysia Universe 2023 Most photogenic
– A6 Celine Phong
Mrs Elite Malaysia Universe 2023 Most photogenic
– B3 Maria Tay
Mrs Malaysia Universe 2023 Most Elegant
– A10 Sharene Lim
Mrs Elite Malaysia Universe 2023
– B8 michelle lim
Mrs Malaysia Universe 2023 Petite Award
– A1 Valerie Chua
Mrs Elite Malaysia Universe 2023 Petite Award
– B1 Caryn Wong
Mrs Malaysia Universe 2023 Best talent
– A7 Shirely Fong
– A6 Celine Phong
– A13 Elisha
Mrs Elite Malaysia Universe 2023 Best talent Best talent
– B9 Iris Mendonca
– B1 Caryn
– B3 Maria Tay
Mrs Malaysia Universe 2023 Most congeniality
– A13 Elisha
Mrs Elite Malaysia Universe 2023 Most congeniality
– B7 Rachel Wong
Mrs Malaysia Universe 2023 Most popular
– A9 Sharon Liew
MJrs Elite Malaysia Universe 2023 Most popular
– B8 Michelle Lim
Mrs Malaysia Universe 2023 Best Skin
– A12 Freya
Mrs Elite Malaysia Universe 2023 Best Skin
– B7 Rachel Wong
Mrs Malaysia Universe 2023 Best Courage
– A7 Shirely Fong
Mrs Elite Malaysia Universe 2023 Best Courage
– B8 Michelle Lim
Mrs Malaysia Universe 2023 Best Eloquence
– A13 Elisha
Mrs Elite Malaysia Universe 2023 Best Eloquence
– B5 Catherine Ng
SPECIAL AWARDS/MENTIONS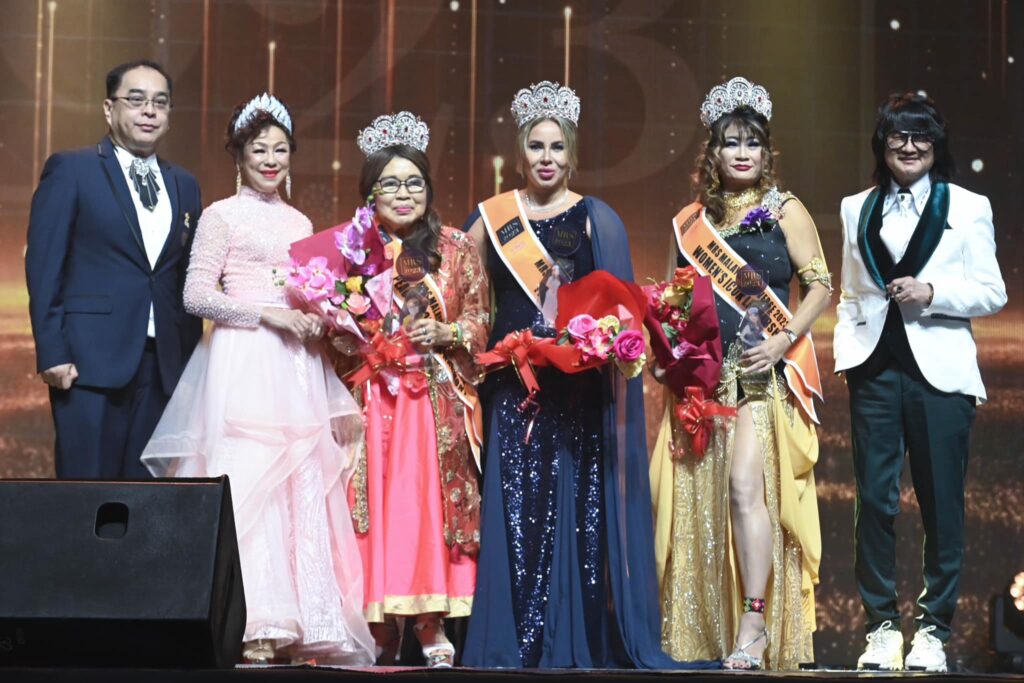 Datin Mary Rasouli
Mrs Malaysia Universe 2023
Timeless Queen
Puan Sri Susan Cheah
Mrs Malaysia Universe 2023
Peace, Goodwill & Harmony
Puan Sri Datin Liana Lim
Mrs Malaysia Universe 2023
Women's Icon Leadership