Experience Youth and Vitality with MF3 Q10 Plus Softgels Series
ym3fm
As we age, our bodies naturally begin to slow down, and we may experience a decrease in energy levels, increased fatigue, and a host of other health issues that comes with ageing.
While there are countless supplements on the market that promise to help you feel and look younger, few can match the potency and effectiveness of MF3's Q10 Plus Softgels.
Q10 Plus Softgel Series is a powerful supplement range by MF3 that contains a unique blend of natural ingredients designed to support your body's natural functions, leaving you feeling energised, revitalised, and rejuvenated.
What are MF3 Q10 Plus Softgels?
MF3 Q10 Plus Softgels are a premium supplement designed to support your body's natural functions and help you feel your best.
Each product under the Q10 Plus Softgels series contains its own unique blend of natural ingredients including Coenzyme Q10, which work together to provide a wide range of health benefits.
For Revitalised Energy Levels & Immune Health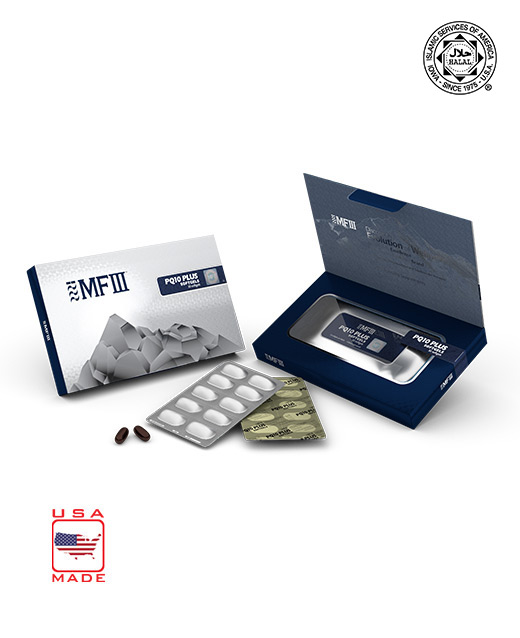 Do you find yourself struggling with fatigue and low energy levels throughout the day?
Then look no further than the PQ10 Plus Softgels.
PQ10 Plus is designed to increase your energy levels, enhance focus and improve your stamina as well as support immune health, so you can you're your best and tackle even the busiest days with ease.
The secret lies in our unique blend of potent antioxidant Ubiquinol (Coenzyme Q10), premium sheep placenta extracts and protein-marine, which work synergistically to enhance the body's natural energy production.
Experience a renewed sense of vitality and feel your best every day with PQ10 Plus Softgels!
For Superior Brain & Heart Health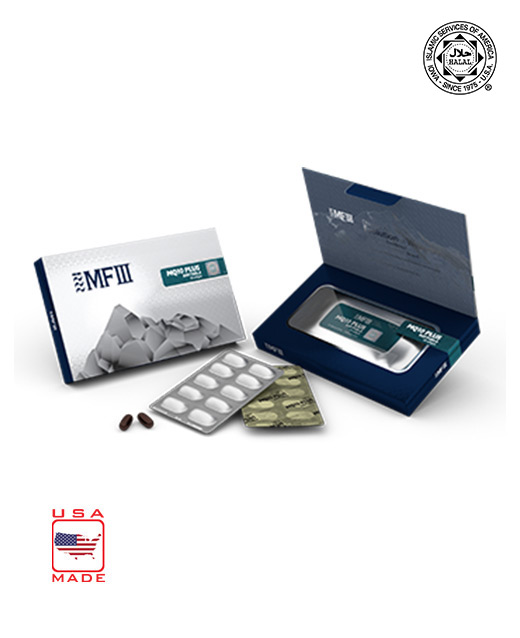 Indulge in the enriching benefits of MQ10 Plus Softgels for better brain and heart health.
Made with Coenzyme Q10 and premium Omega-3, MQ10 Plus can help boost your brain and heart health to elevate your quality of life.
Our formula also contains an advanced blend of antioxidants that can help protect your heart from harmful free radicals and provide your brain with the essential nutrients to function at its best.
With MF3 MQ10 Plus Softgels, you'll be able to experience the vitality of life like never before.
For Brighter & More Luminous Skin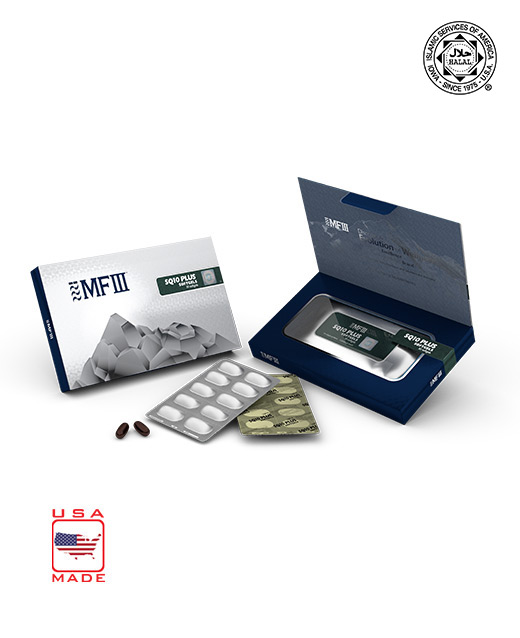 SQ10 Plus combines Coenzyme Q10 with soy extract, L-glutathione and vitamin C, all of which are plant-based.
It promotes skin revitalisation and skin whitening as well as detoxification for healthier and more luminous skin.
So, if you desire fair glowing skin and overall wellness, choose SQ10 Plus Softgels as your health companion!
How to Take MF3 Q10 Plus Softgels
To experience the full benefits of MF3 Q10 Plus Softgels, it is recommended that you take two softgels per day with a meal.
Drinking plenty of water throughout the day is essential to stay hydrated and maximize the benefits of the supplement.

FAQs
1. Is MF3 Q10 Plus Softgels safe to take?
Yes, MF3 Q10 Plus Softgels are made with natural ingredients and are generally considered safe.
2. Can MF3 Q10 Plus Softgels help with weight loss?
While Q10 Plus Softgels are not specifically designed for weight loss, they may help to boost energy levels, which could lead to increased physical activity and potentially aid in weight loss efforts.
3. How long does it take to see results from MF3 Q10 Plus Softgels?
Results can be seen and felt within a week. However, it may vary for different individuals.